After dropping and breaking my old french press I set out on a quest to find the best french press coffee maker that'll stand the test of time. My journey led me to the Espro Vacuum Press. It's without a doubt the best coffee press out there, although it does come with a price premium. The SterlingPro is a good budget alternative for those who value durability and heat retention.
[thrive_headline_focus title="A Quest For The Best French Press" orientation="left"]
Recently I've found myself drinking a lot more french press coffee. It's quick, easy to make, and tastes great brewed with fresh coffee. Not to mention I'm saving a lot of cash from not buying a latte everyday.
However I had a lot of frustration with the first french press I bought. It was a cheap plastic and glass french press. The kind you find at your local discount store.
To cut a long story short it only lasted a month before it shattered into a thousand pieces. So I set myself a quest to find a french press that'll withstand vigorous daily use!
[thrive_headline_focus title="My Selection Criteria" orientation="left"]
The first thing I did is exactly what you're doing – research! A lot of it in fact. You'll be quite surprised at how many different types of french press coffee makers there are.
Taking into account volume, build material and filtration systems I initially had a good 30 tabs open in my browser.
Before my computer started to freeze I realized I needed a method of eliminating the contenders fast. So I jotted down all the things I hated about my cheap french press that broke:
It had a poor build quality
It had low capacity
It couldn't retain heat well
I always found grinds at the bottom of my mug
It broke after a month
If I had any impression that a french press couldn't solve all of the above issues I struck it off my list without second thought.
Eventually I withered my list down the the following contenders:
[thrive_headline_focus title="Winner: Espro French Press" orientation="left"]
My journey ultimately lead me to the Espro French Press. It's my pick for the best french press as it solved all the issues I had with my broken press.
It's sturdy – check. It has heaps of capacity – check. It retains heat – check. It won't break after a month – check. It leaves no grinds in my coffee mug – check.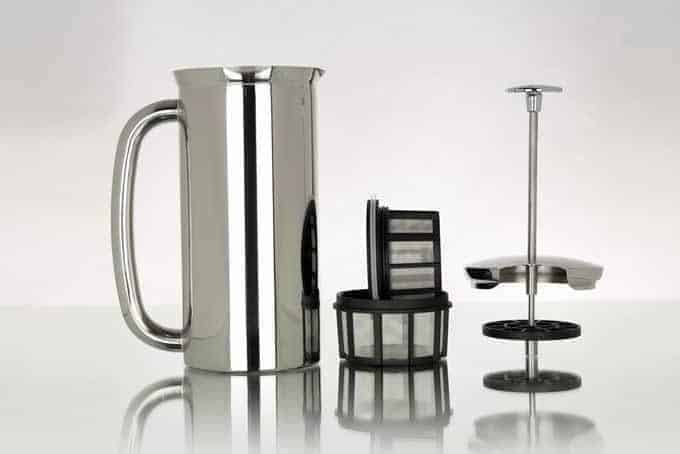 The only thing that you might gawk at is its price. It is expensive. But it's also the last french press you'll ever have to buy. Its stainless steel construction makes sure of that.
You could throw the Espro to the ground, pick it up, and start brewing great tasting coffee like nothing happened.
But my favourite feature of the Espro is its patent pending dual micro filtration system. It produces the cleanest mug of french press you'll ever have.
It works just like a normal french press: put in your ground coffee, hot water, and let it brew. But that's where the similarities end.
Once you start plunging the dual filters get to work by filtering 9-10 times better than a standard french press. This means you can keep drinking till the last drop without any nasty grinds or sludge getting into your cup.
Combine this with its dual vacuum insulated walls to retain heat, BPA and BPS interiors, and you have one heck of a french press that'll last you for years (not months) to come.
The Espro french press comes in three sizes: 8, 18 and 32 ounces.
[thrive_headline_focus title="Runner Up: Frieling French Press" orientation="left"]
A close second was the Frieling French Press. It satisfied all of my criteria bar the one – the filtration system. The Espro had it beat.
The Frieling's filter is based on the standard french press design. It uses one finely meshed screen to seperate the grinds from the coffee. This does a good job most of the time, but I still found grounds at the bottom of my mug and the grinds only increased the more I drank.
However if you're willing to compromise on the filter you'll be saving a bit of cash as the Frieling is cheaper than the Espro.
In terms of build quality and heat retention the Frieling is comparable to the the Espro. This is due to its rugged stainless steel construction and dual walled design to retain heat. However the Frieling is not vacuum sealed like the Espro.
Overall the Frieling makes for a great desk companion for your home or office and is especially good for those who that few extra cups of coffee as it has bigger capacity options.
The Frieling comes in five sizes: 8, 17, 23, 36 and 44 ounces.
[thrive_headline_focus title="Budget Pick: SterlingPro French Press" orientation="left"]
If you're looking for a budget french press don't go too cheap like I initially did. You'll be chucking it out soon after and be looking for a replacement.
That's why I think the SterlingPro is the best french press for a reasonable price.
Coming in at under $40 for a 33 ounce model it's a great deal for a stainless steel french press. This is also its main selling point.
Any cheaper than this and you get french presses made with flimsy plastic or fragile glass – no thank you. The rule of thumb when buying a cheaper french press is to avoid these materials.
In regards to the filtration system it uses a basic french press filter but it comes with the twist of being equipped with two filters instead of one. I find this doesn't make that much of difference. It's more of a novelty than anything else.
In terms of heat retention the SterlingPro is on par with the Frieling thanks to its dual walled stainless steel design, but the Espro's vacuum seal design trumps it.
The stainless steel build is durable but rough around the edges. The welds are not as clean as the Espro and Frieling, but it does the job and wont be breaking any time soon.
The SterlingPro is a fantastic deal for a stainless steel press as its half the price of the more expensive models.
It comes in three sizes: 33, 50, 67 ounces.